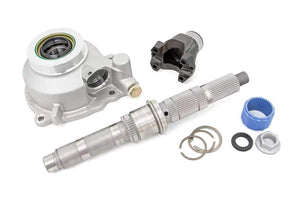 Jeep model NP242J transfer cases have one glaring weak point. They use a slip yoke on the rear output shaft of the transfer case instead of having a fixed yoke and a drive shaft with slip splines.

This design works fine on the street but once you have lifted your Jeep and installed bigger tires on it, the stress on the slip yoke or rear output shaft is often too much. This Heavy Duty Slip Yoke eliminator kit includes everything to modify your transfer case. This kit does require an extended travel drive shaft, which helps to prevent driveline vibration and the rear output shaft from breaking. Read More
FEATURES
Converts transfer case from slip yoke to a fixed yoke for improved off-road durability and performance.
Replaces slip spline output shaft with yoke which allows the use of longer dual cardan driveshafts.
Recommended for lifted XJ's, ZJ's, and MJ's with a NP242 transfer case to eliminate driveline vibrations from the factory rear drive shaft.
The factory NP242 has a 27 spline output shaft that is 1.172" in diameter, this kit will convert the output shaft to 32 splines and increase the diameter to 1.375".